We recently caught up with Daniel Arismendi, the Chief of Machinery at Manuka Farms, a large scale kiwi owned dairy farming operation in Chile milking 26,000 cows to see how their Super Comby EX was holding up. Watch the video of Daniel to see what he has to say about it...
Founded in 2005 Manuka Farms is producing 140 million litres of fresh milk per year, which is no small task, in fact Manuka directly employs 380 staff to keep things running on the 14 farms, covering 22,600 hectares of which 9,000 is dedicated to dairy production, utilising the same grazing system that has given New Zealand a competitive advantage in the global dairy markets.
"It's much more efficient than the other wagons

we had, faster, and you can feed bales"
It's a great Kiwi success story to see proven farming practices from New Zealand, and at the heart of it kiwi ingenuity, being deployed offshore at such a large scale. We're delighted to be a part of it and to help simplify the feeding out duties with tough, reliable kiwi machinery that gets the job done.
Manuka Farms run the popular 13cbm (level-load) Super Comby EX which is scalable with the addition of a rear bin extension, which provides a maximum heaped capacity 18cbm or up to 8 round balage bales, or 10 medium squares. Below is the latest 2017 model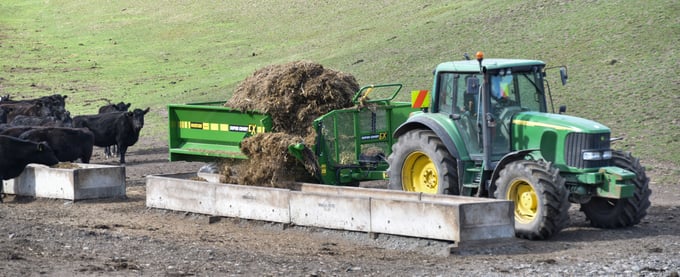 Take a look at the video to see what Daniel has to say about their Super Comby EX:

or Call 0800 487 853 to discuss your needs